Il fenomeno della contraffazione
Counterfeiting is a global phenomenon that affects all products: designer clothes, drugs, vaccines, auto parts, planes and everything else made by criminal companies that compete unfairly with regular companies.
What does it mean to counterfeit a product? A counterfeit product is a product that is "passed off" as genuine but of lesser intrinsic and commercial value.
Counterfeit products are usually made with poor quality raw materials that do not meet the standards necessary for their use and marketing on the regular market.
The counterfeit products have not undergone any research and development process, sometimes very long and expensive and do not guarantee the production standards in compliance with labor and safety regulations. They pass themselves off as "Made in Italy" products, "Controlled and Guaranteed Designation of Origin", etc. even if they are not.
In the pharmaceutical sector, the Italian Medicines Agency has recorded an important increase in the sale of products purchased online from unauthorized channels, which are often illegal or falsified and therefore dangerous to use.
In particular, the most recent cases include for example the falsification of Somatoline cream, a dermatological preparation with anti-cellulite activity, of Cialis, a medicine indicated in the treatment of erectile dysfunctions. (Source AIFA)
Automotive
Even in the automotive sector the phenomenon is widespread and in the case of road accidents it is easy to encounter significant problems caused by counterfeit spare parts.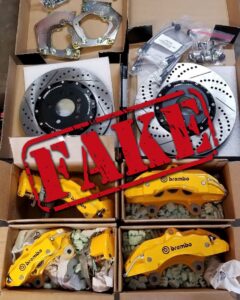 Photo Brembo
Fashion
In the fashion sector, for example, all products are counterfeited: clothes, bags and belts, eyewear, perfumes and everything that is designer labels.
According to a recent Italian parliamentary question on counterfeit products that damage the Italian economy, the Customs and Monopoly Agency reported some significant data on the fashion phenomenon. A container, containing products of famous brands, contains about 10 million Euros in value of goods. If we consider all the containers present in an Italian port in which regular and non-regular goods are present, we can understand the value of the damage for the Italian economy.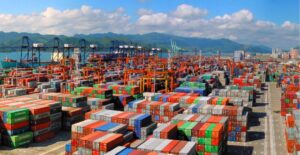 Photo Port of Genova
Institutions and public administrations try to remedy this phenomenon through seizures, reports, destruction of all counterfeit products found, but this is not sufficient to contain this phenomenon.
Therefore the activities that companies must implement for the protection of their products and their brand should be considered as priority actions to be undertaken.
Investigative services
The importance of an investigative approach on direct and online commercial sales networks is a first step in this direction.
Here are some important investigative activities:
The Blockchain, ie the tracing from the origin of the product to its marketing on the sales network, is an important factor in combating criminal actions.
Reporting to all the competent offices of those responsible for counterfeiting phenomena and flows.
Tracking the cash flows of shell companies that manufacture or market counterfeit products.
Brand Protection
Seller Tracking
Investigations services
Anti Piracy
Michael Slim International through its consulting and investigative activities can provide support to companies to address and minimize the problems related to the phenomenon of counterfeiting.